The world governing body announced that Sarfraz had accepted the charge after aiming a comment at all-rounder Phehlukwayo during the second one-day international between Pakistan and South Africa in Durban on Tuesday.
The racist remarks, including the Urdu word "kaale", meaning "black", were picked up by a stump microphone during the match as Phehlukwayo and fellow South African Rassie van der Dussen put on a match-winning stand for the sixth wicket of 127 runs.
The ICC opened an investigation into the incident after the match, before deciding on Sunday to suspend the Pakistan captain for his side's next four matches.
ICC chief executive David Richardson said: "The ICC has a zero-tolerance policy towards conduct of this nature.
"Sarfraz has promptly admitted the offence, was regretful of his actions and has issued a public apology, so these factors were taken into account when determining an appropriate sanction."
The 31-year-old wicket-keeper, who won the Champions Trophy in 2017, took to Twitter to apologise for his comments.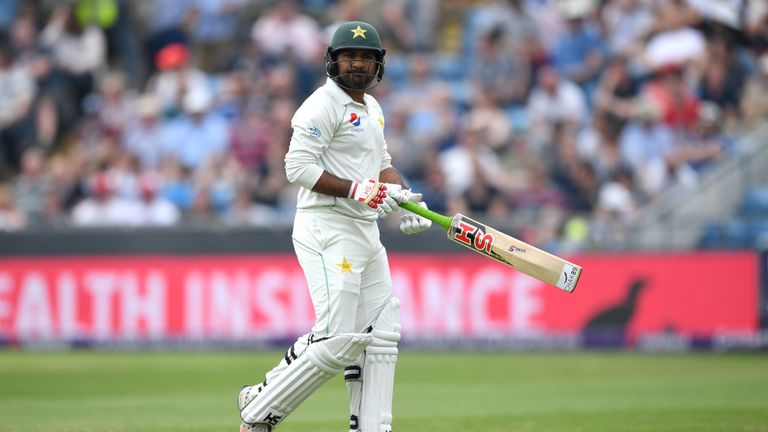 "I wish to extend my sincere apologies to any person who may have taken offence from my expression of frustration," Safraz said.
"My words were not directed towards anyone in particular and I certainly had no intention of upsetting anyone.
"I did not even mean for my words to be heard, understood or communicated to the opposing team or the cricket fans.
"I have in the past and will continue in future to appreciate the camaraderie of my fellow cricketers from across the globe and will always respect and honour them on and off the field."
Sarfraz also personally apologised to Phehlukwayo on Friday, sharing a photograph of his meeting with the South African.
However, the Pakistan Cricket Board (PCB) expressed their disappointment at the ICC's decision, saying: "PCB had anticipated that the matter had been resolved amicably between the two players and the two boards following Sarfraz Ahmed's public apologies which were accepted by the player, the board and South Africa cricket team.
"The PCB will be pursuing this matter at the ICC forums with the objective to bring reforms to the code.
"Having said that, the PCB reiterates its zero-tolerance approach towards racist comments and behaviour."
The PCB also confirmed Sarfraz will not play in the final T20 game of the series against South Africa, despite being eligible. Skysports