Walker had an evening to remember in Milan as the City full-back ended up between the posts on a bizarre night for Guardiola's side.
Substitute goalkeeper Claudio Bravo saw red at the San Siro, and Walker was chosen to come off the bench to replace him.
Guardiola revealed afterwards that he took the recommendation of his goalkeeping coach as City fought to preserve a point.
"We didn't know before but Xavi Mancisidor, our goalkeeper coach, suggested him for his courage and because he is quick," he said.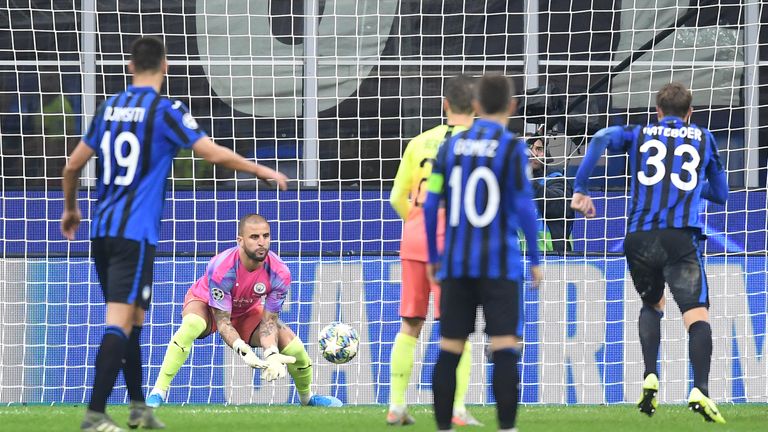 "We are lucky we only conceded one shot on target when he was in goal but congratulations for the courage and desire to help the team in this position."
Raheem Sterling had put City on course for the knockout stages with his seventh-minute opener, but after Gabriel Jesus had missed from the penalty spot shortly before half-time, things took a turn for the worse at the interval.
Guardiola was forced to replace Ederson after he picked up a muscular injury during the first period, making him a doubt for Sunday's Premier League trip to Liverpool.
His replacement Bravo's first job was to pick Mario Pasalic's bullet header out of the net. In an extraordinary turn of events, Bravo was then sent off for a challenge on Josip Ilicic, with right-back Walker going in goal for the final 10 minutes.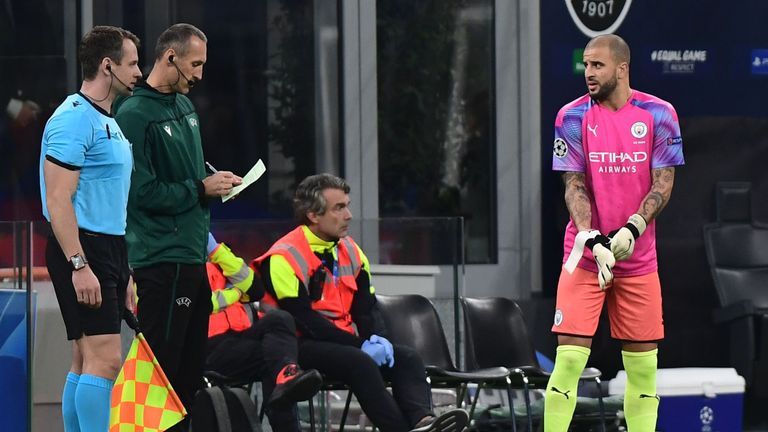 There were at least six minutes between Bravo leaving the field and Walker donning the gloves, and the England international saved the resulting free-kick from Ruslan Malinovskyi as City managed to see out the closing minutes.
Asked afterwards if it was his decision to volunteer himself or the call of Guardiola and his coaching staff, Walker said: "It was a bit of both.
"I try sometimes to wind up the goalkeepers in training by telling them to catch it and stuff but as I found out tonight, sometimes you need two touches.
"All jokes aside, we came here to get a point or a victory. We knew it would be difficult because they go man-to-man and are in the Champions League for a reason.
"To come away from here with how we ended the game with a draw is a good point and we take that on. Now the focus is on Liverpool for Sunday."