A pillar of the sport, Whiting became one of F1's most respected, influential and well-liked figures across five decades in the paddock.
The FIA said Whiting suffered a pulmonary embolism on Thursday morning in Melbourne, three days before the first race of the 2019 season.
"It is with immense sadness that I learned of Charlie's passing," said FIA president Jean Todt.
"Charlie Whiting was a great race director, a central and inimitable figure in Formula 1 who embodied the ethics and spirit of this fantastic sport.
"Formula 1 has lost a faithful friend and a charismatic ambassador in Charlie. All my thoughts, those of the FIA and entire motorsport community go out to his family, friends, and all Formula 1 lovers."
Whiting began his F1 career in 1977 working for the Hesketh team, before joining Brabham in the 1980s where he worked for team owner Bernie Ecclestone. The outfit won two Drivers' World Championships with Nelson Piquet, with Whiting serving as chief mechanic.
Whiting first joined the FIA, F1's governing body, in 1988 and served as F1's race director since 1997.
He had ultimate responsibility for technical and safety matters in the sport, including being in charge of starting Grands Prix.
The FIA has confirmed that Michael Masi, former V8 Supercars' deputy race director, will be the F1 race director for the Australian GP this weekend.
Sky F1 pundits on Whiting
Damon Hill: "It's a huge shock for everyone. He was one of those people who you always thought was going to be there as a voice of reason.
"He had massive responsibility and the pivotal role in keeping the sport running. He's going to be very hard, if not impossible, to replace.
"Drivers particularly respected him. He would address all the drivers at the drivers' briefing and we turned to him when we had issues, worries and concerns."
Very sad to hear of the passing of Charlie Whiting overnight. He will be sorely missed up and down the paddock and by the whole sport.
159 people are talking about this
Johnny Herbert: "We're going to miss him so much because he was such an important part of the structure of Formula 1. From his early days of being a mechanic, he knew how the drivers worked, how they ticked, and how the teams worked. Things change but he changed with them. He was never two steps behind, he was one step ahead.
"That is what made Charlie as popular as he was. He had the respect from everybody. The respect from the drivers was immense and it also went back the other way.
"He was very hard on you as a driver if you did something wrong on track, but he was also very fair at the same time. You could sit down and talk about what had gone on on the track.
"His door was always open – and always open for anybody. In more recent time he also allowed journalists to do a Q&A with him, he knew that was an important element in the sport. I don't know how he's going to be replaced: they're probably going to have to have three or four people to do the work that he did. "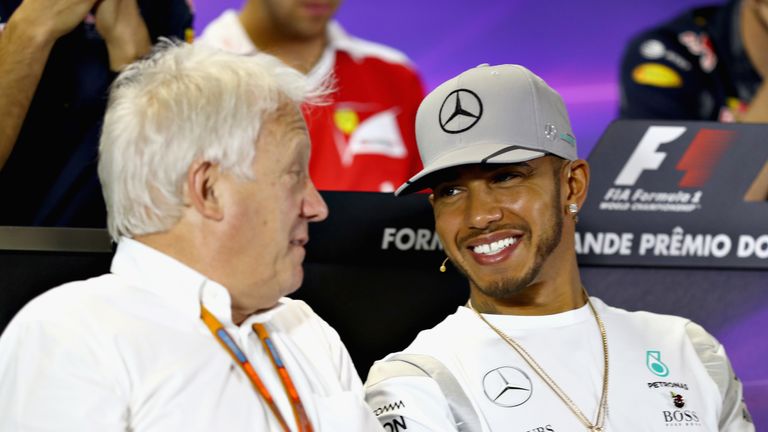 F1 pays tribute to Whiting
Lewis Hamilton, Mercedes: "I've known Charlie since I started in 2007. I was incredibly shocked this morning to hear the sad news and my thoughts and prayers are with his family. What he did for this sport, his commitment, he's such an iconic figure within the sporting world and he contributed so much to us. May he rest in peace."
Sebastian Vettel, Ferrari: "I was as shocked as we all are when I heard the news this morning. Especially as I spoke to him yesterday and walked the track for the first couple of corners together with him. It's difficult to grasp when somebody's just not there anymore. I've known him for a long time and he's sort of been the drivers' man. Obviously there are the regulations, then there's us, and he was the middle man, he was someone you could ask anything at any time. He was open to anyone, and any time his door was always open. He was a racer, just a very nice guy. I'm shocked. Obviously all our thoughts – the whole paddock, the whole circus, the whole family of F1 – are with him and his family in these difficult circumstances."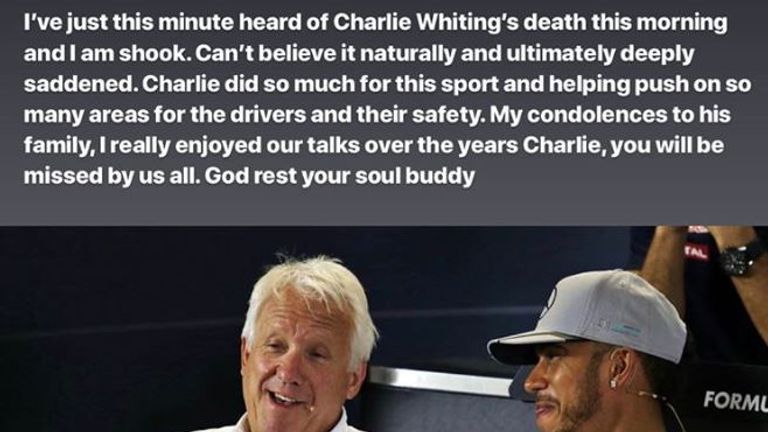 Max Verstappen, Red Bull: "Like everybody said it was a big shock. Also because I spent the day with him in Geneva a few weeks ago and we had a good chat about a lot of things. When I left, at the time, I was like, 'see you in Australia for another season of racing'. And then obviously when you hear this news it's unbelievable. Just 66 years old. I guess we just have to appreciate every day, and every morning you just enjoy life. It's not just about Formula 1, there are other things in life. This is just one part of it. At the moment what is most important is that thoughts are going to his family, friends and close ones."
Toto Wolff, Mercedes: "I was shocked and saddened to hear the news of Charlie's passing this morning. He was a pillar of our Formula One family – balanced in his approach, subtle in his understanding and always with the interests of Formula One as his main focus. He was a fantastic ambassador for our sport and a true guardian of its best interests; all of us who were lucky enough to know him will miss his ready smile and gentle humour. On behalf of the entire Mercedes motorsport family, I send our deepest sympathies to his family and friends."
Mattia Binotto, Ferrari: "Charlie was a true professional and extremely knowledgeable, but more than that, he was a wonderful person, who always treated everyone with respect. A tireless and enlightened motorsport expert, he helped make F1 safer and better. He was a pillar of Formula 1. Our sport is diminished by his passing and we have lost a friend. He will be greatly missed."
Christian Horner, Red Bull: "He was a man with great integrity who performed a difficult role in a balanced way. At heart, he was a racer with his origins stretching back to his time at Hesketh and the early days of Brabham. On behalf of everyone at Aston Martin Red Bull Racing we pass on our sincere condolences to his family and friends. Charlie was a great man who will be sadly missed by the entire Formula 1 paddock and the wider motorsport community."